Laughs, chills, and thoughtfulness — this was the last day of the Hay Festival for me this year. There's a lot to cover, so I'm going to start with the Queen of the Fest: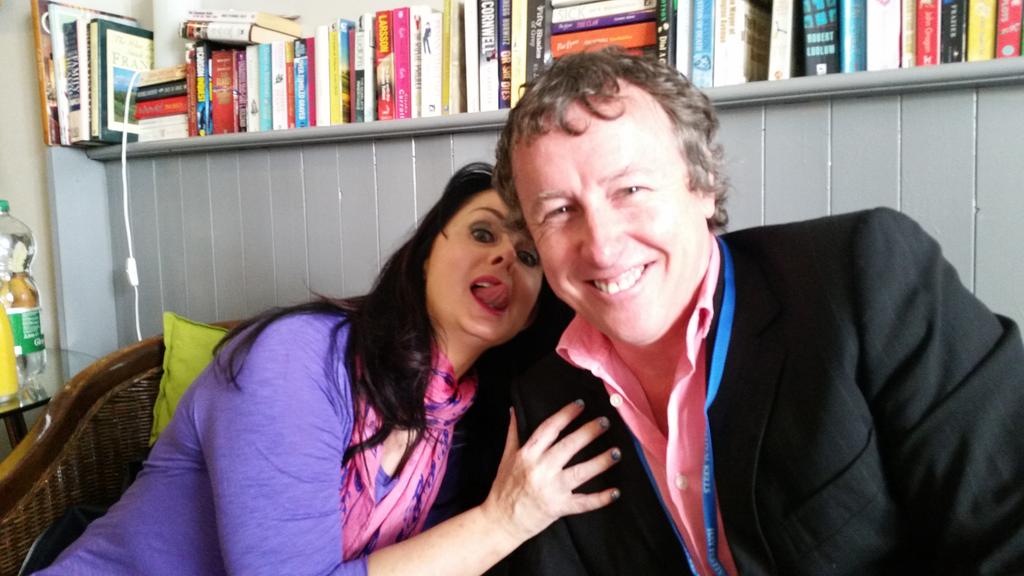 Marian Keyes
If you were to look for Ireland's answer to Candice Bushnell's Carrie Bradshaw, you need look no further than our own Marian Keyes. The beloved author came to talk about her books at the Hay Festival in Kells and she brought the house down. Of all the writers I saw speak this weekend — and I saw plenty — Marian was the only one to get a standing ovation. Follow that, Roddy Doyle! She accepts the adulation with self-deprecation and deep gratitude. Her readers are her constituency and she adores every single one of them. They feel the love and they give it right back
Marian Keyes comes across as the hilarious, irreverent girl you knew in school, who broke into the convent and got drunk on sacramental wine. An Irish Hayley Mills circa The Trouble with Angels. That she's a mass of neurosis, with a history of depression and alcoholism, somehow makes her all the more real and, therefore, likable.
She kept the audience in stitches both with her stories — her Irish mammy sounds like Irish mammies everywhere — and her turn of phrase. When she talks about eating, for instance, she claims she consumed, "slabs of chocolate you could sail to Wales."
The chocolate was good news / bad news. She had spent some time in a psychiatric facility and discovered the literal meaning of basket-weaving. That activity wasn't for her, so she turned to baking and that broke her out of her cycle of depression. Many months and many pounds later, she moved on to restoring furniture. "At least I'm not tempted to lick the varnish."
Her lack of self-esteem makes it impossible for her to take pride in her own achievements. She has, she says, a chip on both shoulders, so at least she's well-balanced.
She spoke about how her law school education was followed by moving to England to become a waitress, then an accountant. This London period lasted eight years and she filled it with alcohol, which she'd discovered in her teens. As her addiction progressed, her life became smaller, darker, lonelier. All the while, she still had the trappings of a successful life with a good job and a place to live.
In her thirties, she hit the skids, culminating in a half-hearted suicide attempt. She was admitted to the Rutland and, though initially in denial, eventually she realised that "the game was up."
Shortly before she got treatment for her alcoholism, she started writing. Even then, it was her lifeline to salvation.
Later, sober, she started to submit her short stories and blagged that she had started a novel. Asked to produce said novel, she spent a week writing the first four chapters of what became her first book for Poolbeg Press. When an audience member later asked how she came up with the voice of the book, Keyes replies that she didn't have time to think about it. She just went with what came naturally. Some fifteen novels later, it's safe to say her instincts were spot on.
Some people are disparaging of commercial novels and their writers. Keyes reports that someone once asked her how many she churned out a year. She bristles at the implication that her work is easy. She takes pains over every single word and cares passionately that she produces something that her readers will enjoy. Her first criteria is, "Do I think it's a good book?" You can't please everyone, she says. Therefore, "The only arbiter can be me."
She denies that she finds writing either therapeutic or cathartic. "You can't do that to your readers," she says. Adding, with a grin, "You want to deliver a quality reading experience."
At this juncture, a member of the audience related her own tale, worthy of inclusion in a Marian Keyes novel:
Every day, said the woman, she took the 25A bus to Lucan and sat at the back reading Watermelon. She laughed out loud while she was reading. This happened every morning for several days. Soon, people started asking her what she was reading, and she read passages out loud to them.  Eventually, everyone on the bus was reading the book and the journey was filled with laughter. (Dublin Bus should take note: instead of the dull music, play stories for the passengers. The world would be a better place.)
The world is a better place for Marian Keyes' presence in it. May she continue to delight us for many years to come.