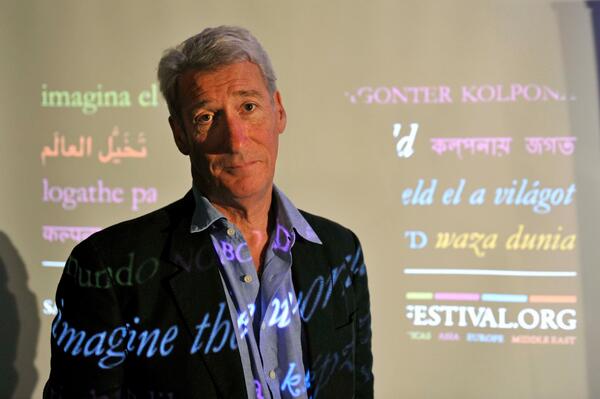 While the US celebrated under the rockets' red glare this July 4th, people in Kells enjoyed fireworks of their own in the sparkling form of Jeremy Paxman.
He is, as you might imagine, an impressive man in person. Tall, erudite and insightful, he came to the Hay Festival in Kells to talk about the First World War and his book, Great Britain's Great War.
The hall at the Headfort Arms Hotel was packed, remarkably so for a Friday afternoon. Paxman joked, "No one told me it was early closing in Kells today." He could be forgiven for thinking so. Not since the last time I flew Ryanair have I seen so many people squished into their seats with such alacrity.
Starting with a series of photographs depicting the world on the cusp of war, and including one of a group of women on the beach while a newspaper vendor's papers announce that war is formally declared, Paxman's attitude towards the conflict was succinct: "War breaks out because of some damned fool thing in the Balkans…"
While the subject under discussion was Britain's war, the author was at pains to point out Ireland had no small role during this period. Many Irishmen served in the British military; Englishmen seeking to avoid military service fled to Ireland, their presence an open secret; and, of course, there was that little matter of Irish independence that had to be factored into many military decisions.
One of Mr Paxman's great gifts, other than his keen intellect and rapier wit, is his ability to find the detail that brings history to life.  He spoke of the British government's incursion into every aspect of life during the '14-'18 period: a man could not buy his wife a drink, nor could a woman buy one for her husband; employment, wages, social life, clothing, and so on, were all regulated by the authorities.
More appalling was Mr Paxman's depiction of trench warfare. It seems extraordinary to us today to think that men lived, ate, slept, and, yes, defecated in the same cramped and rat-infested pits. Men didn't complain because there was nothing that could be done about it.
Declaring that the poetry of the Great War presents a skewed vision of reality, Mr P. confined himself to just one poem, A.P. Herbert's depiction of the general inspecting the trenches. The audience responded with great enthusiasm to the poem which is not, I'm fairly certain, included in any of the more earnest anthologies. (If you're easily offended by scatology, look away now.)
The General inspecting the trenches
exclaimed with a horrified shout,
"I refuse to command a Division
Which leaves its excreta about."

And certain responsible critics
Made haste to reply to his words
Observing that his Staff advisers
Consisted entirely of turds.

But nobody took any notice
No one was prepared to refute,
That the presence of shit was congenial
Compared with the presence of Shute.

For shit may be shot at odd corners
And paper supplied there to suit,
But a shit would be shot without mourners
If somebody shot that shit Shute.
I could go on but that seems an appropriate place to conclude. I will add only this: If you are even slightly interested in the First World War and want to know more about it, especially as this year is the centenary of its outbreak, you can do no better than to buy Mr Paxman's book, Great Britain's Great War. If the man has any sense – and, you know, I rather think he does – it would include an audio of himself reading Herbert's poem.
The Hay Festival continues at Kells through the 6th June.